Does it ever amaze you how many options there are? Whether we're talking pizza toppings, laundry detergent or computers, there's always different options or configurations.  While each serves a distinct purpose, it can make it an overwhelming process to find the perfect solution.  Now we're not exactly experts in detergent (maybe self-proclaimed pizza experts), but after 20 years in the public safety and computer space, we know a thing or two about choosing the right MDT solution.  
When it comes to MDTs, there are different computer types (laptop, tablet, convertible), processors, battery life, add-on accessories, etc.  However, a key feature to consider to help guide the direction of your solution is screen size.    
Screen size is an important factor because it impacts the functionality and portability of the device.  Before diving into screen sizes, there are two main areas to consider:    
First: Job Function
If you are on the frontlines (patrol, motors, detectives, jails), then rugged tablets and notebooks are the best solutions for dash-mounted vehicles (cruisers, SUVs and motorcycles) and out in the field at scenes. For these users, it's important to have the flexibility for report writing, whether in-vehicle or in-station. 
Second: The Workspace (aka The Vehicle) 
Since it's important to be able to take the computer on patrol or in the field, having it fit in the vehicle is the second factor to consider.  A common challenge is the constrained space for both the computer and docking station. 
Two things to think about: 
Do you want officers to take the units in and out of the vehicles?
How big is your fleet and what types of vehicles does it include? (Some MDTs fit better with certain vehicle types.)
A screen for every need + quick takes
So now that you've thought about who will be using the device, where they will be using it and how they will be using it, let's run through 7 Getac models and the quick take for each.  
T800 – 8" Fully Rugged Tablet 
Perfect for: Motorcycles 
Quick take: The 8" screen fits within the vehicle, but still comes fully rugged with Windows Pro System.
UX10 – 10" Fully Rugged 2-in-1
Perfect for: Motorcycles and paramedics 
Quick take: Benefits of a full lightweight tablet with a fully detachable keyboard.
F110 – 11.6" Fully Rugged Tablet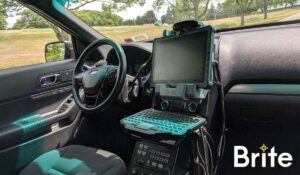 Perfect for: Patrol
Quick take: The best stay-in-vehicle solution.
V110 – 11.6" Fully Rugged Convertible Notebook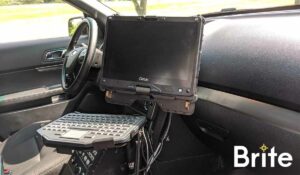 Perfect for: Patrol
Quick take: Convertible style keeps the keyboard attached at all times, making it easy to use wherever. (Bonus: Commonly mounted in-vehicle as a tablet with articulating keyboards.) 
B360 – 13" Extreme Rugged Notebook
Perfect for: Patrol
Quick take: For those in the field with extreme conditions, this hits the trifecta of a perfect balance of power, size and weight. 
A140 – 14" Fully Rugged Tablet
Perfect for: Larger patrol vehicles
Quick take: The largest display is beneficial in larger vehicles with more space than sedans. 
The selection
There are a lot of variables when choosing the right computer solution for your fleet.  Narrowing down the options based on features and functionality helps ease the process.  To further help navigate the process, we outlined other points to consider when choosing the right solution here.  
As always, our reps are here to work alongside you to identify your must-haves, explore different solution options, provide demos and much more.  To get in touch with your local rep, contact us here!