Solutions for Investigators and Real-Time Crime Centers
Utilize the latest in public safety technology to find leads faster and proactively protect communities. In response to the need for next-gen policing technology, Brite has gathered a full suite of investigator and real-time crime center tools ranging from real-time visual operations platforms and drone defense technologies to video analytics platforms. Both officer safety and productivity are improved by utilizing these technologies.
Integrated Visual Operations Center
Gain a holistic real-time visualization of all disparate feeds in a single interactive map with Live Earth. The visual operations system provides actionable intelligence resulting in informed decisions during critical incidents. Post event, recreate incidents as they occurred to better assess response procedures and improve training.
Featured Partner: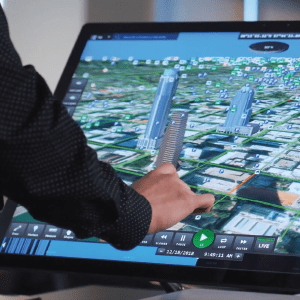 Video Analysis
Leverage existing video assets and save resources by analyzing hours of video in minutes. With Brite's video analysis offering featuring BriefCam, agencies can cut out the noise through advanced filtering and focus on the target to solve crimes faster.  Additionally, get real-time notifications of pre-set safety, security and operational events.
Featured Partner:
Open, Deep and Dark Web Intelligence
Cobweb's user-friendly search engine is a powerful web intelligence solution that monitors online activity of suspects, pulling from the open, deep and dark web, to mobile and social. The exclusive technology extracts targeted intelligence from the web's big data using the latest machine learning algorithms, automatically generating critical insights.
Featured Partner:
Automated License Plate Recognition
Expedite your lead generation process with flexible and accurate ALPR technology built on AI.  The software-based approach eliminates the constraints of proprietary, expensive LPR camera systems.  Now, departments can utilize nearly any existing IP cameras. Utilizing IP cameras allows departments to expand LPR deployments and better protect its community, all at the same cost of traditional systems.
Featured Partner:
Drone Defense
Law enforcement has found many beneficial ways to utilize drones in daily activities, however drones can be also be a major threat. Our partner AeroDefense detects & locates both the drone and the pilot using RF sensors to mitigate risks in a wide range of environments.
Featured Partner:
Body-worn and In-Vehicle Video
The powerful combination of in-car and body-worn cameras provides law enforcement with tangible evidence for investigations and tracks officer movement to improve safety. Partnered with Getac Video Systems, Brite is able to provide both cutting-edge camera technology and an integrated back-end evidence management system that consolidates GPS details with footage from both in-car and body-worn into a single evidence record.
Featured Partner: