Virtual Conference Series
Public Safety Edition
As trade shows and conferences across the country are canceled, Brite is offering a virtual way to obtain information about essential public safety technology. We understand this is a challenging time and the way you support your community is changing significantly. We hope these short, 15-minute sessions will help address some of your needs.  If there are any topics we are missing, please let us know and we will provide content as soon as possible.
Explore a new technology in quick 15-minute sessions.
Your Virtual Line-up
BriefCam Video Analytics
Leverage existing video assets and save resources by analyzing hours of video in minutes. With Brite's video analysis offering featuring BriefCam, agencies can cut out the noise through advanced filtering and focus on the target to solve crimes faster.
Sierra Wireless Connectivity
Maximize productivity, response times and officer safety by having the right connection.  As connected technology is more common in public safety vehicles (AVL, LPR, Video, etc.) there is a need for stronger and more reliable internet connections.  Brite's communication product line-up featuring Sierra Wireless empowers departments to take advantage of FirstNet and Band 14 technology.
Getac MDTs
Leverage 20 years of in-vehicle expertise and let Brite help you select the correct fully-rugged Getac MDT for your needs. Learn about the latest in MDT technology built on Getac with all the integrated technologies required by public safety customers.
Getac Video System
The powerful combination of in-car and body-worn cameras provides law enforcement with tangible evidence for investigations and tracks officer movement to improve safety. Partnered with Getac Video Systems, Brite is able to provide both cutting-edge camera technology and an integrated back-end evidence management system.
AeroDefense Drone Defense
Law enforcement has found many beneficial ways to utilize drones in daily activities, however drones can be also be a major threat. Our partner AeroDefense detects & locates both the drone and the pilot using RF sensors to mitigate risks in a wide range of environments.
Rekor LPR Technology
Expedite your investigation process with Rekor's flexible and accurate ALPR technology built on AI.  The software-based approach eliminates the constraints of proprietary, expensive LPR camera systems.  Departments can utilize nearly any existing IP cameras and expand LPR deployments and better protect its community, all at the same cost of traditional systems.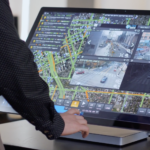 Live Earth Situational Awareness
Gain a holistic real-time visualization of all disparate feeds in a single interactive map with Live Earth. The visual operations system provides actionable intelligence resulting in informed decisions during critical incidents. Post event, recreate incidents as they occurred to better assess response procedures and improve training.